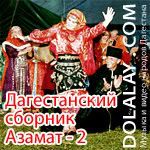 Documentation film made by Turks about Imam Shamil. Its instruct about his life and his lands.
Two police officers were killed while patrolling a small village in central Dagestan on Thursday, Russian news agencies reported.

The Interfax news agency quoted Dagestan's interior ministry as saying a vehicle with three officers was shot at during a routine patrol of the village Gubden. Two were killed and one was wounded.

In October last year attackers burned down the house of Gubden's police chief about 10 days after unknown gunmen opened fire on Russian riot police in the village, wounding two, Interfax reported at the time.

In September 2007 the Islamic judge of a local mosque in Gubden was killed before morning prayers, with an armed underground Dagestani Islamist group claiming responsibility, according to the Chechnya Weekly, a U.S. watchdog
Russian police killed two rebel during an operation in the southern region of Ingushetia, Russian news agencies reported on Saturday.

Another was injured and detained when police stormed a house in a village in the region, which borders the volatile Russian province of Chechnya.

The Interfax news agency quoted Ingushetia's interior ministry as saying that the dead men, both Ingush, belonged to armed groups suspected of recent attacks on police and other acts of violence.

Police found four grenade-launchers, two machine-guns, a pistol and rebel literature in the house, Itar-Tass quoted the ministry as saying.